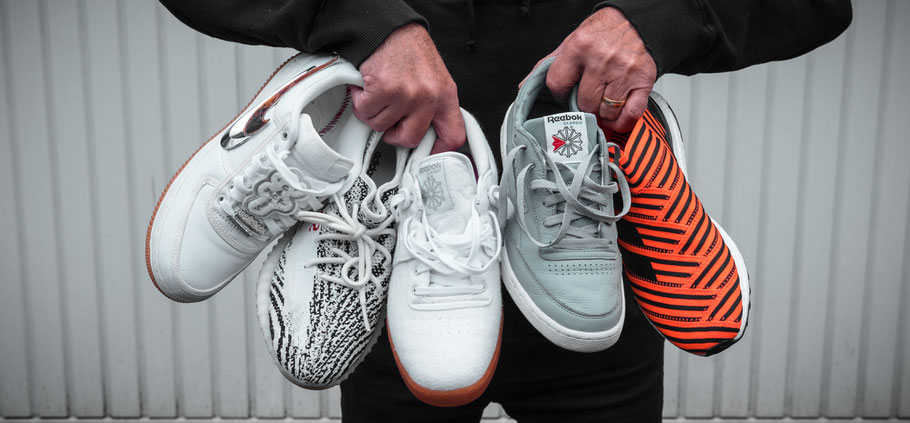 ---
Another year has passed and I think that 2017 was a great year concerning sneaker releases and hyped collaborations. Many new releases such as the Nike Air VaporMax or the Balenciaga Triple S as well as collaborations like the Nike x Off-White collection and the KAWS x Jordan 4s had a great impact on the sneaker community. 2017 marks the year in which 90's trends were revived and brands like FILA, Champion or Kappa were hot again. Surprisingly, the chunky 'dad-sneakers' became popular amongst the younger generation and it seemed like everyone wanted to have the most ugly pair of sneakers.
Besides new trends, 2017 brought back some OG silhouettes and colorways like the OG Nike Air Max 1 collection and of course the Nike Air Max 97, which made a major comeback and celebrated its 20th anniversary.
Since Gramps started to get into streetwear about a year ago, I asked him what his favorite pick ups of the year were. 
Check out his picks below and let us know what you think about his top 5 list.
solebox x Reebok Workout Low Clean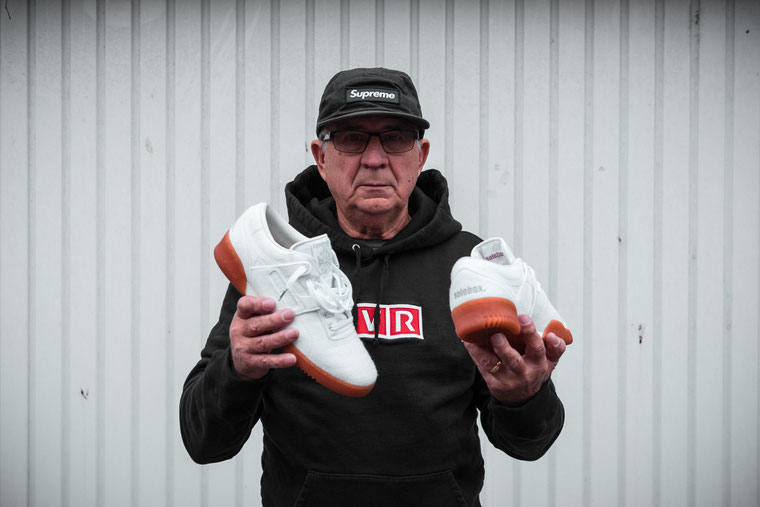 Solebox teamed up with Reebok Classics to reinterpret the classic Workout Low silhouette. The sneakers feature a terry-cloth inspired upper and a gum colored outsole. They're inspired by '90s fitness' and the upper resembles a towels-aesthetic.
"I like the clean design of the shoes and of course the terry-cloth upper. Due to its simplicity you can wear the shoes with pretty much anything. I actually wore them to the gym once and my friends love them! It's a great sneaker and I love the silver solebox stitching on the back, the pink insoles and the special box they came with - everything's well-thought-out!' 
Buy them here or get a different Workout low colorway on Sale at Luisaviaroma
adidas Nemeziz Tango 17+ 360 Agility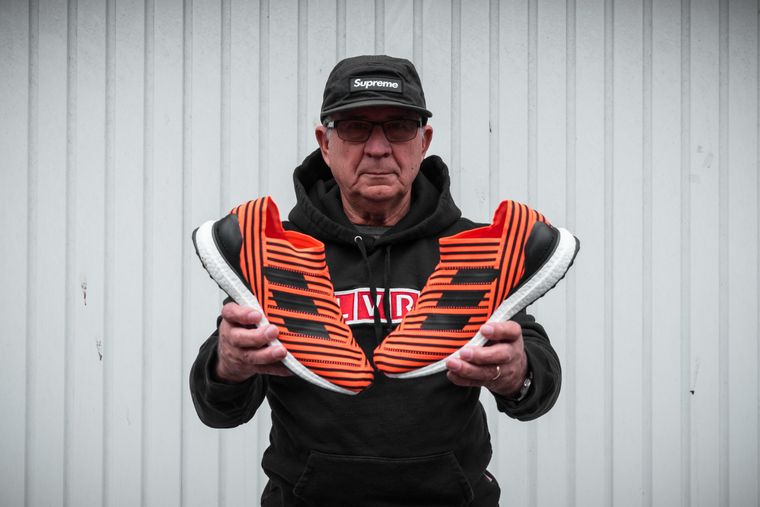 Inspired by adidas' football boots, the adidas Nemeziz Tango 17+ 360 Agility features an ultra boost sole and a textile upper covered in black and orange stripes. They released in a variety of colorways.
"I still can't believe how crazy they look on feet! I'm a big fan of adidas' boost technology and I like to stand out when working out. So these shoes were a no-brainer for me. The laceless design looks futuristic and they are so comfortable to wear thanks to the boost sole. When wearing these you're definitely sure to turn heads."
Buy them on sale here
Reebok Classics Club C 85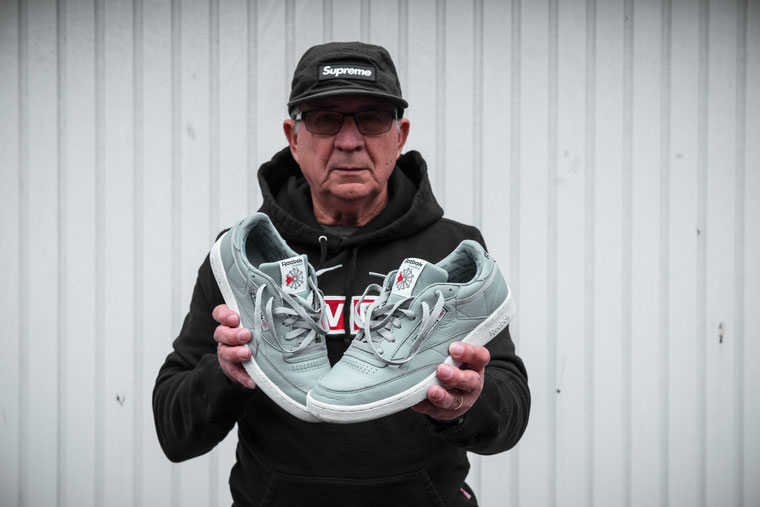 First released in 1985, the Club C 85 is one of Reebok's classic tennis silhouettes. In summer 2017 the sneakers returned in a variety of colorways. Gramps secured this grey leather pair.
"Now that's a real classic! You can never go wrong with a clean pair of leather sneakers. This grey colorway is a nice alternative to the all white iteration and as you can see I already wore them a lot. Great and comfortable sneaker for your daily use!"
Buy them on Sale here 
Nike Air Force 1 'Travis Scott'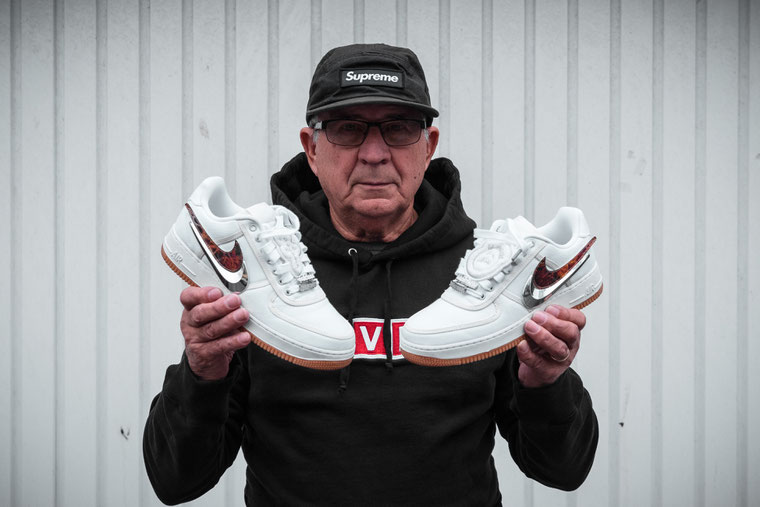 Nike recently released their AF-100 collection which consisted of five collaborative iterations of the classic white Air Force 1 sneaker. One of those collaborations was with rapper Travis Scott. The shoes feature a white canvas upper, removable and interchangeable velcro swooshs, Travis' grills as well as patches on the laces, a gum sole and 3M lining with different colors.
"Absolutely beautiful. The white on white Air Force 1s are an all time classic so I had to get these. I love the interchangeable velcro swoosh and all the details on the sneakers. I like the fact that you can either wear them without the swoosh and all the accessories or go all in with two different swooshs. Great concept!"

Shop Air Force 1s here or on Sale here
adidas Yeezy Boost 350 V2 'Zebra'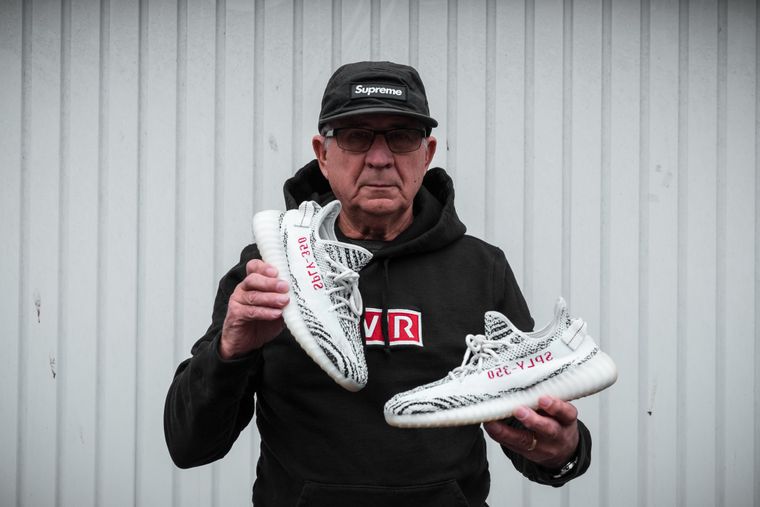 2017 was the year of the adidas Yeezy Boost V2. So many colorways were released and it seems that finally everyone can get a pair. Gramps secured the 'Zebra' colorway.
"I wanted to get a pair of Yeezys forever and this year I finally got them! The Zebra colorway is definitely my favorite and I love wearing them to the city or to work out in them. They're so comfortable and people always ask me how I managed to get them. The V2 is my favorite pickup of the year and I hope to get some more great sneakers in 2018."
Buy adidas boost sneakers on sale here
---